5 Winning Options Strategies For Beginners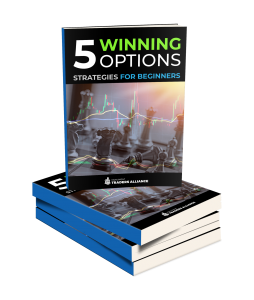 Enter your information below to get your FREE copy now, as well as a complimentary subscrption to our free newsletter Trade of the Day!
By submitting your email address, you consent to Trade of the Day sending you occasional offers that we think you may find relevant. You will also receive the Trade of the Day e-letter for FREE. You can unsubscribe at any time. Privacy Policy | Newsletter FAQ
Copyright © 2023 Trade Of The Day, LLC. All Rights Reserved.
Inside this valuable manual, you will discover... • The Incredible Predictive Power of "Cluster Buying" • The No-Nonsense Conversation That Takes Place With Every Options Trade You Make • How the Market Makers (aka Floor Traders) Get You to Overpay (and How to Beat Them at Their Own Game) • The Simplest Way to Know if an Option Is Priced Fairly – or Overvalued • The Very Best Way to Take Profits • Plus a Special Bonus – a Free Training Video!
Meet The Experts